Learning human anatomy is an important part of the study in classical art. Drawing a nude model not only teaches you skills in patient rendering but also anatomy. In the Academy you work on one single drawing for up to 6 weeks with a total of ~50-60 hours ending up super realistic (see some examples here, here and here).
If a nude model gets paid $15/hour, that makes $750-950 for a complete drawing. Too much to hire a model on your own so attending a nude drawing class is the solution?
Wrong. There are some alternatives which you can try to get as close to drawing from a life model.
Using photo references
While photos are not three-dimensional and you have to make some sacrifices compared to a real model, it can be a convenient exercise. You are free to take and use photos of your partner, but you can get really good and specially made photos on the portal Posespace. There you can find professional photos of nude models in different poses, origin and gender. Although you have to pay to get access to all the photo templates, there are free photos that you can download in high resolution without registration (one photo) and after free registration (another two photos). At the time I am writing this article it is a scarf model so it is not a true nude model. However, the free photos change from time to time.
There is also another source for nude reference material – check it out: http://www.female-anatomy-for-artist.com/site/index
Some years ago I took the free image Posespace.com had at that time and some cheap drawing paper pasted on the backside of a wood panel, pencils grade F and 4B and a kneaded eraser. After 4 hours of work it turned out quite well. I worked with comparative measurement which means I had the image open on my laptop screen on my right and the drawing board on the easel.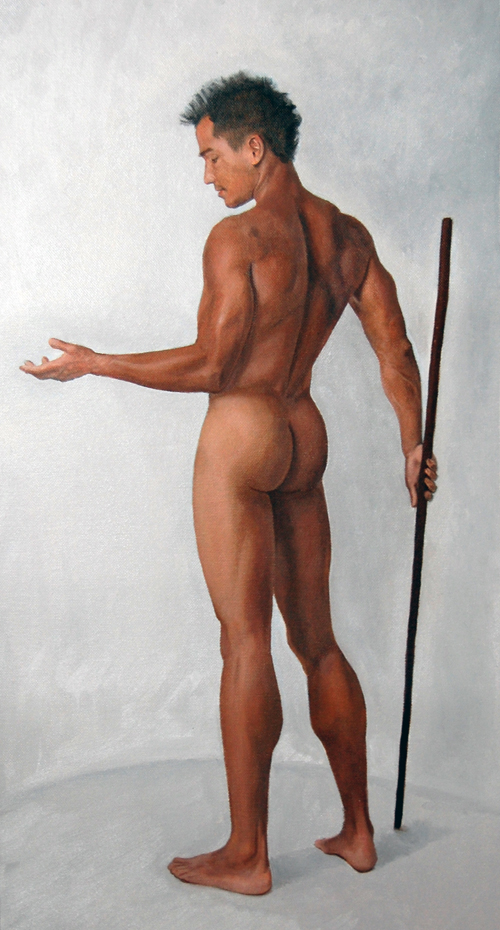 Nude Drawing Figures
The days when artists used old-fashioned wooden mannequins are over. Nowadays there are excellent, real-looking nude drawing figures with a stainless steel skeleton and silicone as muscles and skin. These figures are one time investments for endless hours of nude modeling for you and are the perfect alternative for long poses when drawing nudes.

You can pose these as you wish with their numerous movable joints. They come with exchangable different hands and genitals. There are different types of heads available for you as the body comes with no head sculpt. Also there are different skin tones available.
How awesome is that?
Choose between a more slender athletic, muscular or massive figure. Male figures show the muscular anatomy more clearly and are therefore more suitable for teaching the musculature of man. The 1/6 scale figures are the ones you will need as the 1/12 are too small to work from a proper distance.
Keep in mind that the head needs to be ordered separately.
1/6 Male nude models (body only):
* Last update on 2023-12-02 / Affiliate links / Images from Amazon Product Advertising API
1/6 Male head sculpts
* Last update on 2023-12-02 / Affiliate links / Images from Amazon Product Advertising API
1/6 Female nude models (body only)
* Last update on 2023-12-02 / Affiliate links / Images from Amazon Product Advertising API
1/6 Female head sculpts
No products found.