You propably know the traditional wooden palettes that artists use – on one hand they hold their brushes and on the other is a wooden palette resting on the forearm, secured by the thumb through a hole. Read on and learn about the advantages of a Glass Palette and how you can get one for little money.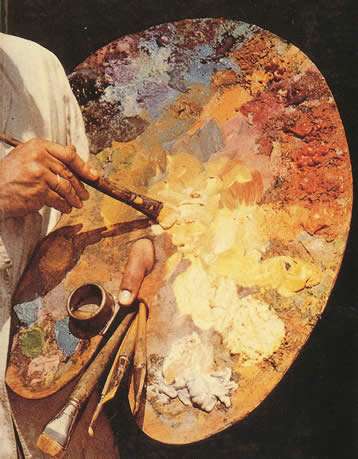 There are certain disadvantages with these hand held wooden palettes:
Color: The color of wood is not neutral therefore all your mixed colors will be influenced by this. By trying to compensate for the warm tone of a wooden palette your color judgements propably will not be as exact as they could be. So a neutral palette is the better option.
Hard to clean: Due to the texture of a wooden palette you will have problems cleaning them perfectly. And when your paints have dried on the palette it's harder to get them off the wood. With a glass palette you can easily use a razor blade and scrape off all the residues.
One arm occupied: While painting you will often use a Mahlstick to rest your painting hand on it while holding it with the other hand. With a palette holding on the arm you are not able to hold a Mahlstick.
THE GLASS PALETTE
The solution to these disadvantages is a glass palette which rests on a table and has a neutral background. I found such a glass palette for 4.49 Euros (~6 $) at IKEA. It's the RIBBA picture frame with a dark grey frame. I placed a grey medium value paper behind the glass and it now serves me well in my little atelier. Make sure you buy a picture frame with glass. Some of IKEA's picture frames have transparent plastic which is likely to scratch with use.
Another advantage is that I can place what ever I want behind the glass – if it's a photo reference or a value scale.
UPDATE:
I currently use the STRÖMBY picture frame in 30 x 40 cm under which I placed my self made Munsell swatches. It has more surface area to mix paints on than the previous fame.
Here is a selection of other shots: